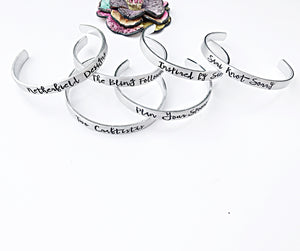 Your Business Name on a Custom Hand stamped Cuff Bracelet,
If you would wear a shirt with your business name on it, drink out of a cup with your business name on it, and write with a pen with your business name on it, then why wouldn't you wear a custom piece of jewelry with your business name on it?!  OH you would? Perfect, here is your chance to get a custom, hand stamped, hand made piece of jewelry with YOUR BUSINESS NAME ON IT!!
Things you should know:
This comes personalized with your business name hand stamped! 
Cuff is made of aluminum and fits up to 30 characters
To personalize your order, please leave a note at the checkout screen.  If personalization is needed for a specific piece, and the information is not left, orders may be delayed in shipping. 
All items are hand stamped using a hammer one letter at a time and finished with a brushed look.  Stamped pieces are made of aluminum which is hypo allergenic, won't tarnish, and are lightweight.  Bangle bracelets are adjustable both up and down and are made of stainless steel which will not tarnish.  They fit most adults and measure 60 mm in diameter.  Cuff bracelets are made of aluminum and measure 6" x .25" with a 1" gap and adjust to fit most adult wrists.  Necklaces are 18" dainty stainless steel chains with a lobster clasp closure.  All keychains come with a 1" keyring attached.