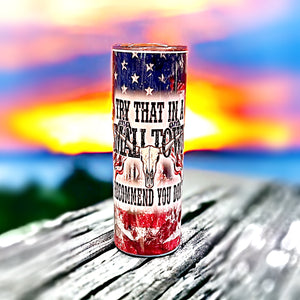 Wholesale | 4 | Try That In A Small Town 20 oz Tumblers
Try that in a small town 20 oz insulated tumblers keeps your drinks hot and cold. These are sublimated images that will never come off.  Tumblers come with lids and straws and are sold in 4 packs. 
Tumblers are sold in 4 packs, you will get 4 tumblers in the Try That in a Small Town image.  Photos are IRL, just a background is added, but the actual tumbler IS NOT A MOCK UP.  It is our tumbler we have made as a sample.