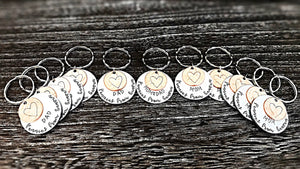 Wholesale | 1 pc | Pennies From Heaven Keychain
If you see a penny and find it, it is a symbol of an angel sending you a gift from Heaven.  This "pennies from heaven" custom hand made keychain makes the perfect memorial sympathy gift to give someone or yourself who may have lost a loved one. 
Things you should know:
A real penny is used and stamped with a large heart
I have pennies from 1960-2020
Disk is 1.25", made of aluminum, given a brushed finish,and is hand stamped in the font shown to say: pennies from heaven
A keyring is attached
Personalize this with a name of your choice
each keychain is $11 wholesale 
To personalize your order, please leave a note at the checkout screen.  If personalization is needed for a specific piece, and the information is not left, orders may be delayed in shipping.
All items are hand stamped using a hammer one letter at a time and finished with a brushed look.  Stamped pieces are made of aluminum which is hypo allergenic, won't tarnish, and are lightweight.  Bangle bracelets are adjustable both up and down and are made of stainless steel which will not tarnish.  They fit most adults and measure 60 mm in diameter.  Cuff bracelets are made of aluminum and measure 6" x .25" with a 1" gap and adjust to fit most adult wrists.  Necklaces are 18" dainty stainless steel chains with a lobster clasp closure.  All keychains come with a 1" keyring attached.