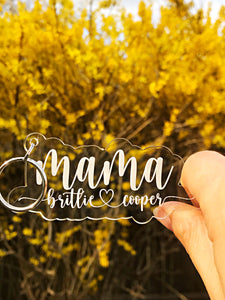 Wholesale | 1 pc | Clear acrylic Mama keychain with names
This keychain is made of clear acrylic and comes laser engraved.  You can choose from any "large" name such as MAMA, MOM, MOMMY, GRANDMA, DAD... etc.
Then choose from any "small names".  Please note: 
if you choose 1 name, there will be no heart swirls
if you choose 2 names they'll be connected with one heart
if you choose 3 names they'll be connected with two hearts
if you choose over 4 names, I will do 2 hearts connected, another line with another 2, and a 3rd line with another 1 or 2. 
Keychain measures appx 3.5" long
handmade