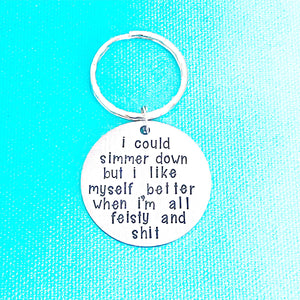 Simmer Down Keychain - I Like Myself Better All Feisty and Shit - Funny Snarky Gifts
Simmer down? No thanks!! Who wants to simmer down when you can be all feisty and shit? This hilariously snarky hand stamped custom silver keychain makes the perfect addition to any fiery keyring!
Things you should know: 
hand stamped on a 1.25" aluminum disk
Comes as shown "i could simmer down but i like myself better when i'm all feisty and shit" 
All items are hand stamped using a hammer one letter at a time and finished with a brushed look.  Stamped pieces are made of aluminum which is hypo allergenic, won't tarnish, and are lightweight.  Bangle bracelets are adjustable both up and down and are made of stainless steel which will not tarnish.  They fit most adults and measure 60 mm in diameter.  Cuff bracelets are made of aluminum and measure 6" x .25" with a 1" gap and adjust to fit most adult wrists.  Necklaces are 18" dainty stainless steel chains with a lobster clasp closure.  All keychains come with a 1" keyring attached.