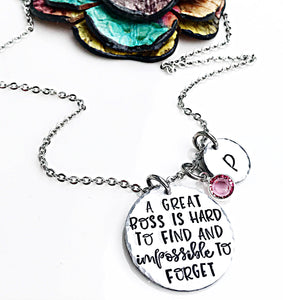 Boss Gifts, Necklace for Boss, Favorite Boss, Boss Lady Necklace
When you're at work, you tend to spend a lot of time with your coworkers, sometimes more so than your family!  Having a great boss is very lucky.  Coworkers are special, but a boss you love is priceless.  And why not show your boss how grateful you are to have her in your work life with this custom, hand stamped, personalized boss necklace!
Things you should know:
Hand stamped on a 1" disk: "a great boss is hard to find and impossible to forget"
Choose a birthstone of your choice
Add a 1/2" hand stamped initial of your choice
To personalized your order, please leave a note at the checkout screen.  If personalization is needed for a specific piece, and the information is not left, orders may be delayed in shipping. Please note the birthstone chart in the photos to choose the stone needed for each name. Birthstones are sterling silver plated.
All items are hand stamped using a hammer one letter at a time and finished with a brushed look.  Stamped pieces are made of aluminum which is hypo allergenic, won't tarnish, and are lightweight.  Bangle bracelets are adjustable both up and down and are made of stainless steel which will not tarnish.  They fit most adults and measure 60 mm in diameter.  Cuff bracelets are made of aluminum and measure 6" x .25" with a 1" gap and adjust to fit most adult wrists.  Necklaces are 18" dainty stainless steel chains with a lobster clasp closure.  All keychains come with a 1" keyring attached.