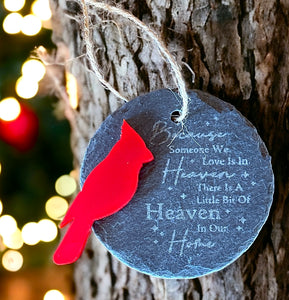 Wholesale | Someone we Love in Heaven Cardinal Slate Ornament
Christmas can be so hard when you lose someone you love.  Commemorate them with this gorgeous slate ornament that comes with an accented red cardinal attached.  The ornament reads: Because someone we love is in Heaven, there is a little bit of Heaven in our Home. 
Ornaments are 3" round, laser engraved with an acrylic cardinal attached, finished with twine for hanging on your tree.